By Jeffrey Deitch
My America, Deitch Projects, 2000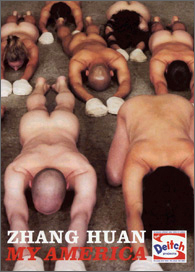 My America

Fifty-six naked Americans of a variety of ages and backgrounds stand solemnly on a three-tiered scaffold in the center of the Seattle Asian-Art Museum. Sitting stoically beneath them in a Child's swimming pool is Zhang Huan. He had just been pelted with hundreds of loaves of bread in a manic bread throwing action. About an hour earlier,he had given this group of volunteers a set of twelve simple instructions:

1. Pilgrimage

2. Lie Face Down on the Floor and Do Not Move
3. Act and Sound Like Animals

4. Sit in Lotus Position and Pray

5. Practice Tai Chi

6. Stand and Face the Audience

7. Run,Catch the Center of a Circle

8. Climb Scaffold

9. Stand Still on Scaffold Facing the Audience. Wait for Zhang Huan to Descend to the Floor on a Rope

10. Throw Bread on Zhang Huan

11. Descend From Scaffold Onto Floor and Exchange Pieces of Bread
12. Follow Zhang Huan Outside

Zhang Huan conceived the performance as a concentrated pilgrimage,fusing Eastern and Western approaches to spirituality. Entitled Hard to Acclimatize,it derived from the artist's difficulties in adapting to America. The work celebrates the new freedom that he has found in America filtered through his more Eastern spiritual visions. As he always does in his work,Zhang Huan uses the body as language and as medium. It is the most direct way for him to connect with his self,his fellow performances,and with society.

Zhang Huan is trying to open a new approach to performance art,bring it closer to dance,theater,and to life. He is working to combine the charismatic power of the great solo performance artists with the epic imagery of the ambitious theatrical productions. He is also trying to create a performative structure in which the intense physical,intellectual and emotional experiences of the artist can be shared. The body becomes the vehicle to experience the work and communicate these experiences to others.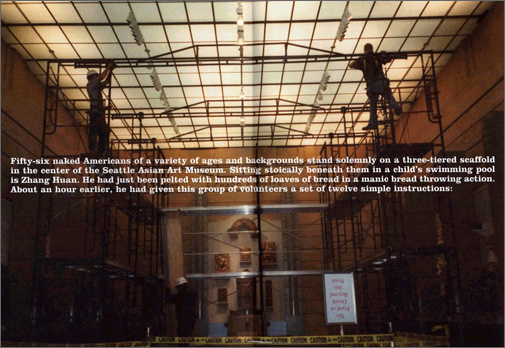 Much of the power of Zhang Huan's work comes from the direct,frontal sculptural structure of his imagery. His images have a confrontational power and a solidity that gives them an enduring resonance. The performances on which the photographic images are based are built up like sculptures,with structure balancing the random quality of the actions. The penetrating power of Zhang Huan's images derives not just from their formal strength,but from their ability to communicate the artist's profound insights into the human condition. His earlier work captures the resolute will to endure the difficulties of life in China and face a future where change appears to happen but really doesn't. The new work embraces the openness of American society while advocating the spirituality that he feels it needs.

Zhang Huan first became known to the American art audience though his participation in the 1998 "Inside Out" exhibition organized by the Asia Society,P.S.1,and the San Francisco Museum of Modern Art. His unforgettable photographic work,To Raise the Water Level in a Fishpond,was the cover image of the catalogue and the exhibition poster. Zhang Huan was born in He Nan,China in 1965. He was part of a small group of underground artists who introduced a new form of radical performance art to China. Beginning in 1992 he created a group of extraordinary performances using local peasants and artist friends. Most of these took place in an impoverished village outside of Beijing where Zhang Huan and his colleagues had established an artist's colony known as "Beijing East Village." After violent confrontations with the Chinese authorities,Zhang Huan emigrated to New York,where he now lives.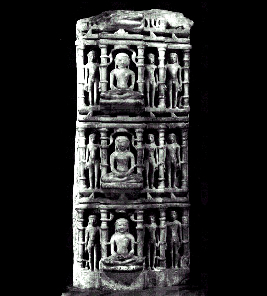 Jain Relief from Rajputana
12th Century, Marble, The Seattle Art Museum, Eugene Fuller Memorial Collection